RVE was recently recognized as one of the 2020 Top 50 Trenchless Engineering firms by Trenchless Technology Magazine. The list was released in the publication's December 2020 issue. We are experts in the major areas of engineering including water and wastewater services. Our staff of specially trained professionals has extensive expertise in developing effective short and long-range plans for water and wastewater systems. We carefully evaluate every system blending proven technology with innovation to ensure all our clients receive systems with maximum efficiency and minimal overall costs.
In a recent project that employed trenchless technology solutions, RVE was retained by the Borough of Catasauqua to provide engineering and inspection services for the manhole lining rehabilitation of the Catasauqua Creek Interceptor, an 18‐21-inch sanitary sewer that runs parallel to Catasauqua Creek. Due to its depth and proximity to Catasauqua Creek, the Interceptor is vulnerable to groundwater infiltration. The full length of the Interceptor was lined in the late 1990s and nine brick manholes along the interceptor were not lined or otherwise rehabilitated as part of the lining project.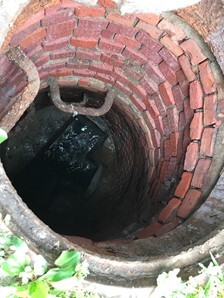 The manholes were all lined with Parson MH Liner. RVE measured the success of this project by monitoring the flows pre and post I/I work using temporary flow meters. Average Interceptor flows observed pre-work in 2019 were 0.783 million gallons per day and post-work in 2020 were 0.341 million gallons per day, a 56% decrease. Total precipitation during the observation periods was similar, and a decrease in observed flows was also seen at the wastewater treatment plant, where the flow entering the plant decreased from 1.46 million gallons per day to 0.93 million gallons per day.